The Status Bar displays your PC's security status and helps you monitor all critical and non-critical security events, updates and promotional offers. There are three status types that you may see in the adaware antivirus status bar:
Protection: Active indicates the following:

Computer at risk indicates the following:

Protection: Inactive indicates the following:

The status bar, located at the bottom of the adaware antivirus window, presents information about all problems/issues found: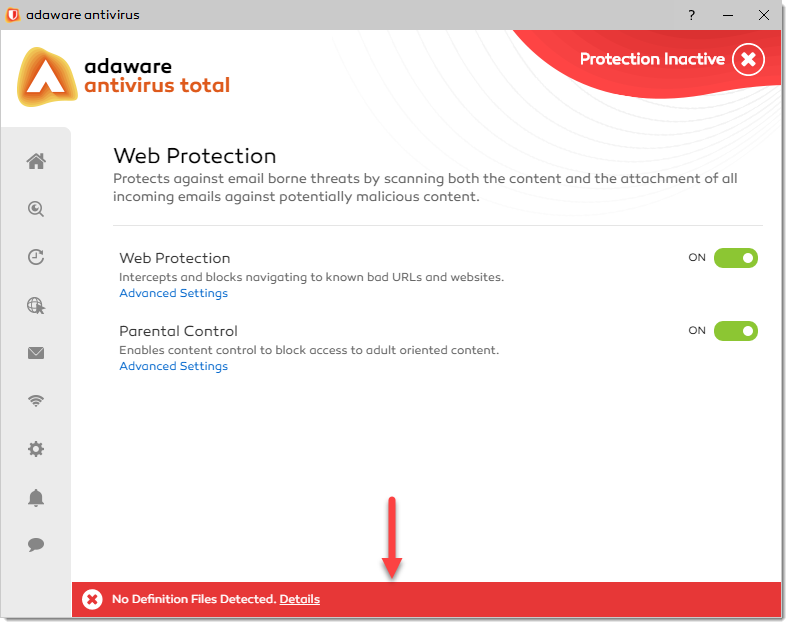 Important notifications are marked with red color. These messages alert you to critical issues, like if the Real-Time Protection feature is disabled, or if no definition files are detected, meaning that your computer is at risk. Such notifications need your immediate attention, as they convey something of utmost importance.
The yellow notification status indicates that your adaware antivirus program requires your attention. For example, the yellow notification appears if the Email Protection feature is turned off or if the system scan is too old or has never been performed.

The green notification informs you about new software updates.

Click the Details link to access the Notification Center screen and learn more about the problem.
Use left and right arrows to navigate between the status bar notifications.


Left/right arrows will be displayed only if there is more than one message.