Notification Center has been designed to detect problems that might be putting your computer at risk, or to inform you of any other issues, and to recommend an action to solve the situation. Notification Center keeps monitoring all running processes within your PC for possible issues, and offering tips on how to avoid the problem.
To access the Notification Center, on the left navigation menu, select the Notification Center option.
Alternatively, on the Status Bar, located at the bottom of the adaware antivirus window, click the Details link (available only if at least one problem/issue has been detected).
With the Notification Center dialog displayed, you can see a list of problems detected.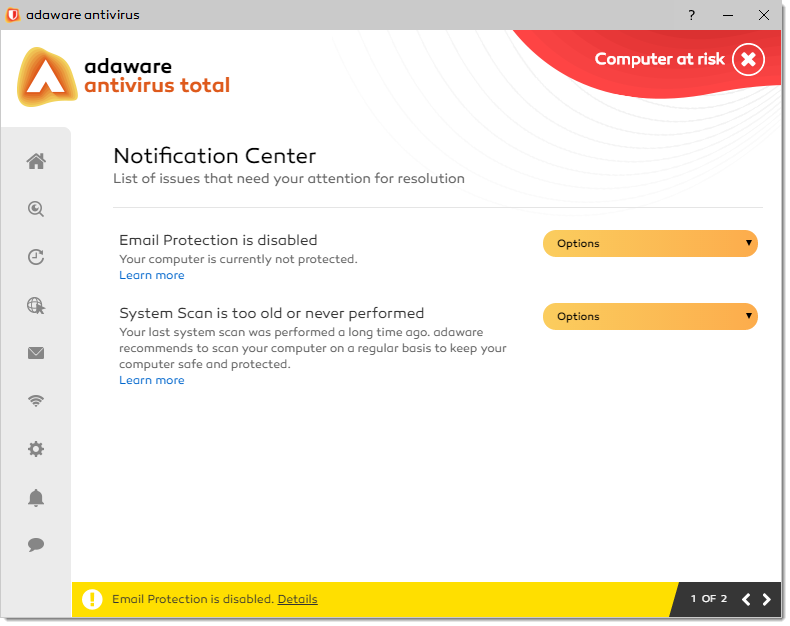 To view the details of the particular problem found, click the Learn more link underneath the particular problem. You will see the screen with the detailed description of the problem and recommendations on how to solve it.
Use the drop-down combo box to apply one of the following actions on the item:
Fix It Now (recommended). Select this option to fix the problem immediately. Afterwards, the problem is not available in the list.
Remind me later. Select this option to clear the problem. You will be reminded about it after 48 hours.
Ignore (not recommended). Select this option to move the item to the Ignored List.
You can apply appropriate actions from the Notification Center screen as well.