Tray application (on your Windows taskbar, right-hand bottom corner of your monitor) is a software application that is installed together with adaware antivirus. It informs you if adaware antivirus is running or not. Orange indicates that the the service is running and fully functional. Grey indicates that the service is currently disabled.


To access the main adaware antivirus user interface (the "GUI"), double-click the tray application icon in the system tray.
To access the context menu of adaware antivirus, right-click the tray application icon.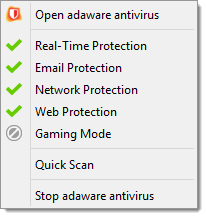 The context menu includes the following options:
Open adaware antivirus
Opens the adaware antivirus application.
List of adaware antivirus features
Disables/enables adaware antivirus features. Click the required feature to disable/enable it. A set of features available in the list depends on your current version of adaware antivirus.
Quick Scan
Runs a Quick Scan.
The Quick Scan command is replaced by one of the following statuses depending on a process being currently performed:
Scanning...: when a scan of any type is being performed.
Scan Paused: when a scan of any type is paused.
Cleaning...: when a selected action is applied to threat(s) found.
Clean Paused: when a cleaning procedure is paused.
See Scan Result: when a scan of any type is finished and threats are found.
Clicking a status on the tray context menu opens the Scan Computer screen.
Stop adaware antivirus
Stops the adaware antivirus service.
The Stop adaware antivirus command is replaced by the Start adaware antivirus command. Click this option to start the adaware antivirus service.