The web is the number one source of malware and threats which get more varied and sophisticated every day. The Web Protection feature (available in Personal, Pro and Total versions of adaware antivirus) blocks the latest web threats and ensures a safe browsing by alerting you about potential phishing websites. It implies an Internet filter and Parental Control for your computer.
To adjust the Web Protection feature, proceed through the steps listed below:
1. On the left navigation menu, select the Web Protection option. The Web Protection dialog opens.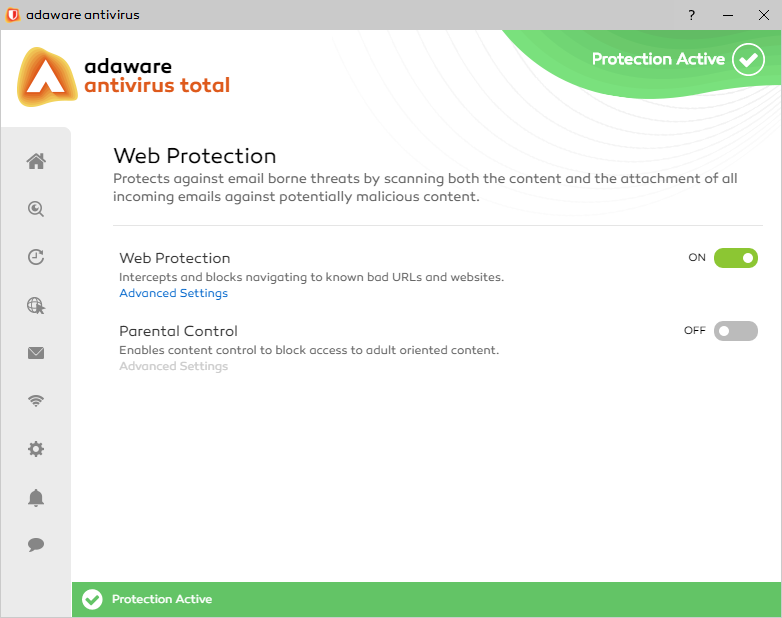 By default, the Web Protection feature is enabled. Single click the slider to switch between two positions. The green color stands for Enabled, which means that the Web Protection security service is active and fully functional. The grey color represents the Disabled status, i.e. the service is deactivated. If you do not have a good reason to deactivate the service, we strictly recommend that you keep the Web Protection feature turned on.

You can also enable/disable the Web Protection feature from the Home tab.
To get access to the advanced configuration options of the Web Protection feature, click the Advanced Settings link.

If adaware antivirus has detected any incompatible software, you need to install additional components to enable Web Protection. To do this, click the slider next to the Web Protection feature and continue installing additional components.

When you disable Web Protection, the previously enabled Parental Control feature will be disabled as well. You can disable the Parental Control feature separately. With that, the Web Protection feature remains enabled.