You can set and configure advanced settings for the Network Protection feature from the Advanced Settings dialog.
To open the Advanced Settings dialog:
1. On the Network Protection dialog, click the Advanced Settings link.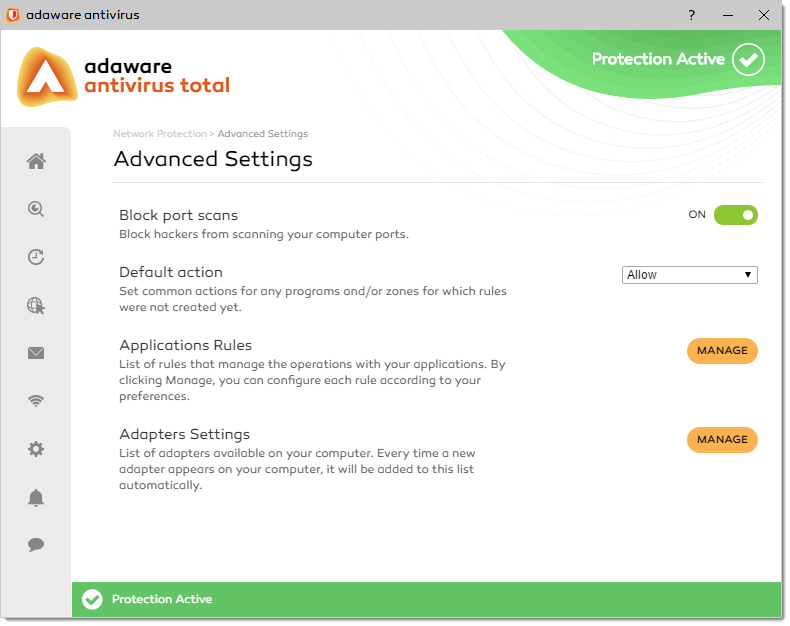 Here you can manage the following settings:
Block port scans. Click the slider to enable/disable blocking hackers from scanning your computer ports.
Default action. Use the drop-down combo box to select Allow, Deny or Prompt actions that are performed by the Network Protection feature on detecting a network connection attempt. Allow and Deny actions are applied to any program, if no rule has been created yet. If the Prompt action is selected, any application attempting to access the network/Internet will trigger a prompt requesting to Allow or Deny access for this application. Rules for any application are automatically created when selecting Allow or Deny. Once selected, no prompt will appear the next time the application accesses the network/Internet.

The Default action applies only to applications that are not covered by the General rules.

Application Rules. Click the Manage button to manage the application rules by which installed applications can access network resources.
Adapter Settings. Click the Manage button to manage adapter(s) available on your PC.