The Automated Scan is a feature of the adaware antivirus program that allows you to scan your PC even if you are not in front of the computer. Scheduling the Automated Scan you can keep your computer clean without wasting your time.
To schedule a scan and configure the scheduling options, proceed through the steps listed below:
On the left navigation menu, select the Scan Computer option.
With the dialog displayed, scroll down until reaching the Automated Scan block, and click the Edit Schedule link.
With the Automated Scans dialog displayed, specify the scanning parameters listed below:

Scan my computer. Specify the scan frequency, such as Daily, Weekly, or Monthly. For Weekly and Monthly automated scans, choose either a particular day of a week or a day of a month.
Scan type. Choose the scan type that you want to schedule, Quick Scan or Full Scan.
Scan time. Specify the scan time by typing numbers in the hour and minute fields, and entering AM or PM. You can also set the scan time using your keyboard Up and Down arrows, or the scroll wheel.

The time is displayed in 12 hour format.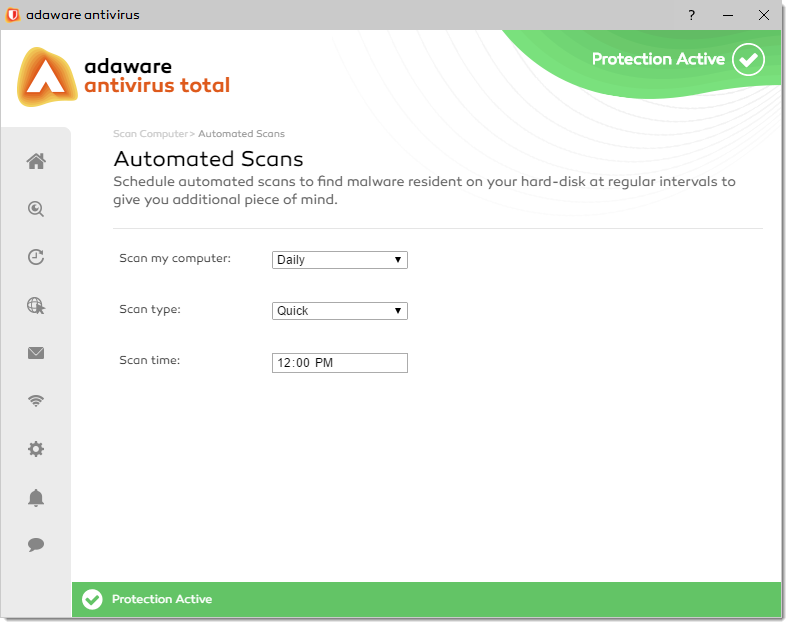 By default, the Automated Scan feature is enabled. Single click the slider to switch between two positions. The green color stands for Enabled, which means that the Automated Scan feature is active and fully functional. The grey color represents the Disabled status, i.e. the service is deactivated.