Some errors might occur when deleting adaware antivirus product via Start ? Control Panel ? Add/Remove Programs. As a result, the application may not uninstall correctly or remnants of the application may remain in the system. In order to fully remove the installed adaware antivirus product, use this free Removal tool.
SUPPORTED OPERATING SYSTEMS
Windows 7
Windows 8
Windows 8.1
Windows 10
The Removal Tool enables complete uninstall of the following products:
Ad-Aware Antivirus 11
adaware antivirus 12

IMPORTANT: When you remove a product using the Removal tool, license information is also removed. Make sure you have the license key or the activation code stored elsewhere so that you can use it again later.
The standard Windows removal methods (Add/Remove Programs) are the best way to uninstall your adaware antivirus product(s). You should use the Removal tool only if:
the standard removal methods fail to work or
if the application is uninstalled incorrectly or
remnants of the application remain in the system.
DOWNLOAD AND RUN REMOVAL TOOL
Step 1. Click here to download the Removal Tool installer.
Step 2. Save the installer file on your computer.
Step 3. Once downloaded, run the installer.

Note: You may see a notification from the User Account Control (UAC) after you run the file. To proceed with the installation, click Yes.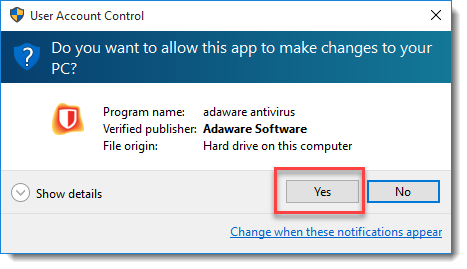 Step 4. In the window that appears, click Remove.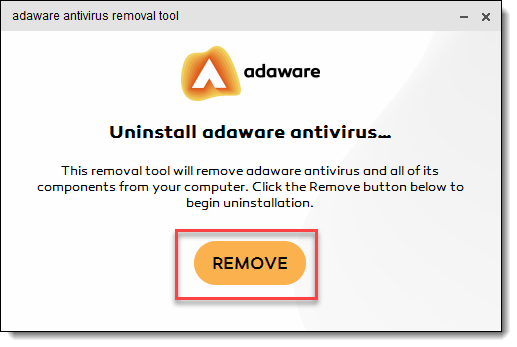 IMPORTANT: Please make sure to save all your work and close all open documents! Your PC will be restarted, once the uninstallation is complete.
Step 5. You can see the uninstalling process in progress.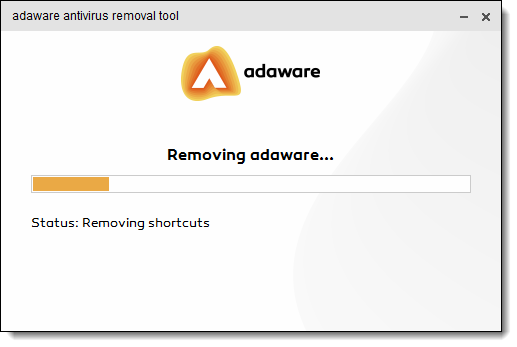 Step 6. To complete the uninstalling process, click Reboot Now.